Our typical satisfied customer... This can be you!
Len: Good Friend, Mad Irishman and Very Happy Customer

Below are a few of the letters which have been send in by my customers, regular folks just like you. These are presented as they were received in each person's own words.

Dear John,
I know you don't have time to chitchat with your customers but:
I just want to tell you the parts have arrived today and I am very pleased with them ! Items are exactly as described, so everything A+ here.
Thank you very much! Until the next time...
Best regards from Holland
Ronald

John,

Thanks for the pilaster and the tone arm cap. You shipped the stuff on Monday, and I think I had it here, in St. Louis, MO. on Wednesday of
the same week. Great prices on hard to find stuff. You are not a price gouger........Not getting bent over for a hard to find part makes a difference
in this hobby. It makes it a little more fun.......................Scott


John:
I wanted to thank you for all the parts I got from you for my Seeburg Matador. Everything you sent met my expectations, especially the small screws for the lower fluorescent tube holders. The little parts make a big difference to a novice juke owner like me. Thanks very much! I look forward to buying from you in the future.
Best Wishes
Barry Jones
Memphis, TN

Hi John,

The 3 boxes are on my front steps. Next day, now that's what I call exceptionally fast shipping and handling!


Thanks again!

Chris

Cote

New Jersey

John,
Just a short note to tell you I received the part today and it works great. Thanks for shipping so quickly.
A Very Satisfied Customer
Thanks Again
Bud Wintermantel
Magalia Ca.
Beyond Paradise

Hi John ,
The Dancer strip for my Seeburg LS2 jukebox arrived today

.

I can't thank you enough for finding that part for me and I must thank you for your fast shipping and packing of the item which was superb, now my jukebox looks great again.

I know where to come now when I need any other parts for my jukebox

.

Many thanks

Tony Wake Oldham Lancs UK

Just wanted to let you know that the part fit perfectly and our juke is up and running for the first time in 20 years. My 2-1/2 year old just loves the old 78s and has been singing "C'est Si Bon" by Edith Piaf all week. A memory I will never forget. Thank you so much.
Amy

Hi John,
I am very pleased with the AMi G200 trim parts you dispatched. Their quality is excellent, and to have the service card and business card supplied is a real bonus, and will add to the authenticity of my restoration.
The mail tracking system is also really good.
Well done, and Iím sure Iíll be back for more replacement parts as the restoration continues.
Jeffrey Black
Australia

John,
I just want to let you know I received the motor today and it works great.
I can't believe how fast this one is compared to the old one.
Thank you for your help and fast service, this juke box works great now.
Thanks again and it's good to know where I can get good parts and service now.
Jon

John,

I received the 2610 wurly selector assy today, GEEZ you are fast. I ordered that part just 2 days ago. It worked just fine. With this kind of service, I will definitely continue to do business with you.

Bryan Shaw


The title board arrived yesterday. All in one piece and fits perfectly !!!
You're too good to be true !

Hi John,
I got my parts I ordered today, geez man, you are fast, I just ordered them Monday, great service.
Bryan Shaw

Hi John, the parts were right on the money. Thanks for your good service and quick shipping as well. regards,
Justin Shetler

Thanks John.
Very prompt service. Received the order on Thursday....I wasn't expecting
the parts to look new. I'm pleasantly surprised and anxious to start
putting the " old " boy back together. Thanks again for the reasonable
prices, fast service, and condition of parts.

Regards,
Tom Hanford


Here's an especially flattering email...
Part1:
Good Lord that was fast John! Got it yesterday. PERFECT!

Thank you oh guru of the jukebox parts. (bows humbly) LOL!

Have a great weekend.
Alan

And part 2 after asking if I could use the above email on site....
LOL!! Of course you can.

Your honest. You go over and beyond what's required like sending pictures to make sure every detail is not overlooked. You don't get that kind of service and friendly knowledge much anymore. And dealing with used parts, you just never know what you are going to get from most places. If you are not physically there looking at it, it's a pot luck when it comes in the mail.

I've bought a few things from you over the years and usually when you say, "I'll warn you. It's rough." I've usually seen rougher and it really isn't that bad. I'm sure there are some pure people out there that have probably raked you over the coals, but my experience with you has always been just exciting and great! I'm always amazed this stuff is still floating around out there. I tackle the mailman when I see the boxes arrive. LOL!

I'd love to come tour your building but after scrapping my teeth up off the floor, you'd probably never get me out of there. LOL! I so would love to restore jukeboxes but you can't make a living out of that anymore.

You do good John and maybe people don't tell you that enough. Even those, like myself, that don't always know the proper terminology, you don't talk down or dog them for not knowing. You'd be surprised how much you get that in the world! If you can't quote the actual part number and page number in the service manual by memory then you are an idiot.

I appreciate what you do and I tell everybody that needs parts to contact you first. You know EXACTLY what you have in stock and the response time is just super fast. The shipping is just super fast and I've only known you to be very fair in pricing on everything. You do know you're not allowed to retire don't you? LOL!
Alan

Hi John
Thank you for the manual & fantastic service. If you where just down the road I'd be lost for hours in your warehouse.
Ken Buck
UK

Hello John
The Seeburg AY 160 has arrived safely here in Sweden. Looks great! Thank you very much for a first class deal in every aspect!
Best Regards
Ove Samuelsson
Sweden

My 1015 has arrived, took about 30 days. I just want to say thanks for the excellent description you gave me on this box, and all the help with the shipping.
Its just perfect for me.
Just another happy customer saying thanks to you. Dave Waters British Columbia Canada

Thanks, John ... everything was received today -- my juke has never played so well. Thanks for the assistance!
-- Cameron Ough

Hi, Just to say that your delivery time is A1, what a surprise when I got home from work and your parcel was waiting for me. My juke box is up and running again. Regards John Cassidy

Items received today --- Thank you; they are excellent and if you ever need a reference let me know. Your company is great.
Steve Watts
Watts Repair

John,
I just wanted to say thank you, I installed the part and now my jukebox is
playing better than ever. I would defiantly come back to you for parts in
the future. Thank You so much!

Sincerely,
Zach Volkman


John,
Got the items and they are perfect, but I would expect nothing less when dealing with you.
Thanks again for helping all of us jukebox aficionados keep these machines going.
Very best,
Greg Pruett UK

John,
I received my order for the AMI Rowe pre amp yesterday and installed it. Thank you so much for the prompt delivery, next day, and the product. My jukebox hasnít sounded this good in years!!!!!
Respectfully,
John Mullen

Hey John,
Received the parts you shipped today, they are EXACTLY what I needed to
complete my Wurlitzer model # 3260!!!!!! THANK-YOU very much for your help and
prompt attention. You definitely have my future business.

Thanks again
Scott Farquhar


Hi John,
Just a quick email to say many thanks. The part is great and is going to make my parents very happy this Xmas as we have all been looking for months. The delivery was unbelievable for this time of year, I cant believe it arrived this soon.
Please feel free to use this as a testimonial for anyone who is unsure of having parts shipped abroad or who has not ordered from you before.
Thanks again
Kristie
(United Kingdom)

John,
I just received my order, and I wanted to thank you again for your promptness and courteous service. I look forward to dealing with you in the future.
Jimmy L. Blakely Parrish, FL

John,
Always, always, always a pleasure to do business with you.
Greg Pruett England

Thanks for the great service! The parts arrived today in good condition.
Regards
Jim brickwood
Sydney australia

Hi John,

I just wanted to say thank you for the wonderful service. The product is great and the shipping was amazing. Thank you for your great service. It is appreciated! Have a great holiday weekend...
Brian Diller
Nashville, TN

John
I have to say you out did yourself. I spoke to you on Thursday at around 3pm for the AMI Gripper. I didn't want to overload you knowing you were leaving for vacation the next day. You insisted on my giving you the info and said you would put it in the mail before leaving. Well, on Fri at about 12 noon the bell rings and a package is delivered. Wondering what the heck this package is, [are you sure you don't live around the corner from me?? ] It took ME longer to install the part than it did to get it delivered
Thanks
Richard

Hi John,
Just wanted to let you know I received the speakers today. Thanks for packing them well and getting them to me so quickly. Hope to do business with you again. My friend just down the street from me does business with you and he told me you were good and I agree with him.
Thanks Again
Rodney W. Cook

Hello John,
I've fitted the amp to my Rockola 404. Had to replace a couple of valves plus a new cartridge, stylus and tone arm wire. It now rocks and rattles the windows.
You've got an Aladdin's cave of jukebox's together with great way of doing business. it was great to be let loose among the jukebox's to help myself.
Thank you very much and best regards,
Mike Nicholson. Sheffield, UK.
PS - I'll be back.

John : I wanted to send you a thank you ! I am happier than a pig in trash ! Your e-response on New Years Day to my juke box part problem was very much a surprise!
The reed switch works great, and I am getting a new list ready for you .
You have earned my trust, (that's not an easy ).
Good day Sir
Anthony Marande
Midland Mi.

John - received the clutch, thank you for the prompt
shipping! It works fine and I hope to finish this
Seeburg library unit soon. Will be in touch for more
parts.
Have a great day!
Jimmy Day

Hi John,

Just wanted to let you know I was real happy with the wallbox I
received. Your attention to detail shows it's obvious you take great
pride in your work. The unit you sent me is my first step in setting up
a system using CDadapter's interface with a CD disk changer.

I look forward to doing business with you in the future.

Thanks again,
Kurt Paulsen


Good evening,
I receive my order of LPC-480 parts earlier this week. WOW, what service. Everything you sold me is EXCELLENT and works perfectly. Without a doubt your service and selection is first rate! I sincerely appreciate the service received and will certainly purchase from you again and recommend you to others.
Have a happy and safe holiday season,
Very truly yours,
Nick Genova

John,
The

Seeburg 100-

B is great! The mech was very clean and I was more than surprised that it picked every record that I played! I was also very pleased that the machine was so complete and so original. When we are done restoring it, I will send you pictures.
Thanks again,
Shirley & John Kelty Albany, NY

John
It's really been smooth doing business with you -- I had a bad experience on
Ebay, so I opted for a legitimate business and I'm glad I made that
decision.

Thanks,
Frank
Modesto, CA

The transplant is a success. The new heart is beating away.
Thanks

Hi
John
I just received the glass for my 2910 and wanted to thank you for the parts, they were packaged excellently and arrived undamaged. Just wanted to say thanks again and keep up the good work.

John
Thank you for sending my order so promptly. I was especially thrilled over the "Deposit Coin" part. The one I have is broken with missing pieces. Both parts were in excellent condition. My jukebox has a lot of sentimental value, and these things are important to me!

Hello again John.
Covers received safe and sound today. Fantastic...well pleased. Thanks for the fabulous service you have provided and, who knows, I may need something else in the future. You, sir, are a 'diamond geezer'.
Best regards
Robin
East Yorkshire
England

Hello John,

Just a quick note to thank you for the fast shipment

on the Aireon parts. Two days from Mass to Western New

York was fantastic!

Anyone who has Aireon Super Deluxe parts on hand truly

does have the "largest galaxy of jukebox parts

on

earth"!

As usual, thank you once again for the wonderful

service and for making my parts available. Keep up the

good work!

Sincerely,

Dave (Rochester, New York)

John, we received the manual we ordered today. Thanks for the wonderful, prompt service you provided, right across the world, to down under here in Australia.
Regards.
Keven and Paula
Australia

Hi John
Just to let you know that the part arrived today! Wow

,

have ordered stuff from the U.S.A before, never had service like this, fantastic!
Have spent the morning fitting it ,very carefully, it works perfectly. I have waited 6 years to see this feature work again!
Thanks once again, top international service
Paul Hutchins
Welwyn Garden City
Hertfordshire
England

Just to keep you posted, I temporarily hooked up the DEC last night and IT WORKS. We were thrilled. The STD4 had the original Digital Consolette Power Supply (DCPS1) installed in it, as well as the 10 terminal hook-up strip. It was just a matter of following the color code and it worked great. I replaced some of the light bulbs which I keep spares for the Jukebox. I have it set up for "Free-Play". Now that I know it works, I'll completely dismantle and professionally repaint it.
Thanks for a nice old hard to find part that was reasonably priced. It makes a great addition to my music room.
A satisfied "Jukeboxparts.com" customer,

Hi John!

I just wanted to tell you that the parts you sent arrived today. Thanks a lot for the fast and reliable service! I'll recommend you to everyone who needs juke pieces!

Best greetings from Luxembourg!

Thierry

Thank you, Mr. Durfee for making a dream come true!!!!!!! The motor we ordered from you was an answer to prayer. My husband worked all day New Year's day on our Wulitzer 1100, which belonged to my parents, who are both deceased, and about 5:30 that afternoon it began running perfectly!!!!! I am so excited because we wondered if it would ever work again!!! Thanks for the good work you do in helping to restore the old masterpieces!!! I can never thank you enough for bringing back happy times in the past, as my brothers and I sat with our parents and listened to the old 78'S on this beautiful machine!!!

Thanks again,

M

alissa

B

augh

T

emple

, Texas


John,

Just received the optical switch for my Rowe R-90.
Thank you for sending it already mounted on the arm.
Installed in two minutes, works great.
Thank you for the great service.

Phil H.
Berrien Springs, MI

Just to let you know all the items arrived on Friday! Wow next day! I know we are close but I can't get a letter across town in 1 day!
I can definitely say I've never had faster or friendlier service!
Thanks Again!

Hi john
I just had to send you a line to tell you how over the moon I am with the Wurlitzer 2500 I recently purchased from you. I finally got it up to scratch and It sounds brilliant. Thanks for all the help you gave me, I really am pleased with it.

John
Order received, exactly what was needed, thanks so much for the great service and help !! Until next time
Dene H
olmes

Dear Mr. Durfee,

Just to let you know that the MM-5 changer assembly arrived yesterday with no apparent signs of having been damaged in shipment. You did a real nice job picking this unit out - it looks to be in better shape than the one in the box now!! If you don't mind, I would like to keep you in my "good-guy" data base.

Thanks again. It has been a pleasure doing business with you. Honesty in the early stages of "e-commerce" is very important. We owe a duty to all future generations to build a good foundation of trust in order to bring the world closer together. You have done a great job so far. Keep up the good work.

Dave
Platek
Lisle, IL

The cam gear drive assembly arrived a couple days ago. I have cleaned it, lubricated it, and installed it. It is Perfect!!

Thanks for such great service. I'm sure you'll be hearing from me again as I continue restoration of the old Trashcan Seeburg.

Thanks again,
Jesse Morris
New Martinsville, WV

Goods received, fitted in 2 minutes, great. We met face to face some years ago at the show in Rosmalen, Holland. I still have that parts I bought from you then as well! It's always good to know you're dealing with a professional when you are sending money to other parts of the world, or in your case 'Galaxy'...
Thank you,
Alan Edwards
Buckinghamshire, England

Just wanted to let you know your service was great! My juke was up and running minutes after I opened the box, thanks.
Jon Dawson
Chicago, IL

Got the glass today, John! Perfect! You're the best!
Thanks very much for being there.
Aaront T. Heverin North Tonawanda, NY.

John:
Just wanted to say thanks for all your help. The juke and records arrived yesterday without incident, and in good working condition. I know I have some cosmetic conditioning to work on, and Iíve got a service manual on orderÖso, Iíll be back!
Kirk Fox
Columbia
,
MD

John-
I just wanted to take the time to thank you. You not only shipped me the parts to fix my Juke (A leaf-switch stack and 5-pin coin unit plug), but did it with decent looking stuff from a "Junkyard" of parts, and charged a great price.
Believe me, it's not the only thing my 201 needs. I WILL not only be back, but I'll also be calling you for parts for my buddies 222 that we are restoring together!
You've won a customer, and a whole heck of a lot of referrals!
Thanks again,
Andy Broczkowski

John,
Thanks so much. It's a pleasure doing business with you!!! Thank God somebody has these parts. John Karpovich, Vienna, Virginia

Hey John
We just received the wallbox, love it. Thank you for packing it so well. We were like kids in a candy store when it arrived. Fits perfect in the kitchen. I am sure we will enjoy it for years to come. We will pass on the information about your sight and how personable you are with your customers.
Again, thank you.
Ron and Carleen Shanks
Crosby, TX

Dear John

I wanted to let you know that I received the popularity meters for my
Wurlitzer. I installed them, which is itself quite an undertaking - 50
small bolts, washers, and nuts!

In particular a big thank you for the efficient, speedy service. I wasn't
expecting the additional hardware, but you took the trouble to include
nuts, bolts, washers, and the 'e' shaped joiners. Add to this a reasonable
price and you have clearly provided level of customer care that one seldom finds these days.

Sincerely,
Mark Addleson
Centreville, OH

Hi, the coin chute arrived and Hooray! It works again. You'd never think
someone would be so excited to put money in a machine.

Thanks for your help, I'll keep you in mind for future needs on my Seeburg LS-1.

Thanks,
Chris Courson
Williamsburg, VA.

Hi John,
This is Alex from Italy! I've received the W40: fantastic, it's very nice. I'm very happy 'cause the wallbox inside is in excellent condition!
I thank you very much! BYE!

Hello, I received the Stepper today. I will definitely order from you again - honest and fast shipping - can't be beat!
Sheldon Breaux

John,

Received the mech motor yesterday. It works! The old one had trashed
final reduction gear shaft holes, so it had extra friction.
Machine is running quite smoothly now (for one that's played 1/2
million records, at least). Thanks again!

HELLOOOOOOOOO John!!!!! Received the parts Yesterday, Thanks for the
help!!!! Your a fine gentleman and a very good judge of prune juice.
Dennis Starrine

Hi John
Item arrived safely. Looks good. Thanks for the perfect service!
Best regards,
Eric Goessens, Netherlands

Saludos.

The package that I ordered from you arrive safely at my home
in Santiago the last week.

The parts are great and I noticed that you really took care on the
packing.

Thanks a lot, you really bring first class service.
I still need some other parts, when I have the complete list, I will
send you another email.

( Las partes que ordene llegaron la semana pasada a mi casa
en Santiago, Chile. Muchas gracias por todo, Ud. presta un servicio
excelente y mas que de primera clase. Se nota que Ud. puso extremo
cuidado en el embalaje. Incluso Ud. puso "used parts", asi que no me
cobraron
impuestos en la Aduana. Aun necesito algunas partes mas, cuando
tenga la lista completa se lo hare saber en otro mail.
Le recomendare su excelente servicio a otros. )

Francisco X. Suarez Cucurella, Santiago, Chile


John
The 6000-6002 manual arrived for my Seeburg HSC and is perfect!

I have not removed the player from my van yet, but think I have already
found the problem.

Thanks for your help and fast response. Nobody else in the business I
contacted even replied!
Allen Miller Glastonbury, CT.


Hi John
I received the Jukebox (Rockola 446). I want to Thank You for all your help. It is just what I have been looking for, for a long time now. You did a great job on the crating and it arrived without a hitch. I want to tell you that I will recommend your services to anyone that is looking for a jukebox or parts in the future.
Ron Krokonko

I received the 100-R last Wednesday. It is beautiful! Much better than the picture could ever describe. Of course, this is what you told me so I shouldn't be shocked, but seeing is believing! I'm glad I bought it before someone else did. You were right about American Van to, they were terrific!
Dan Bendixon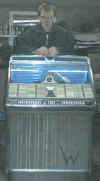 Hi John !

I want to say thank you for your good work crating the Wurlitzer 2304 we bought from you recently. It arrived in great Shape!
Dietmar Shomer, Black Forest, Germany

John's services are unparalleled. Quick prompt replies to e-mails. Excellent descriptions of products, and I'm not a "no-it-all" attitude. I've always been satisfied with all items purchased and all inquiries. I am always referring others in need of parts.
Thanks John
Carl Wolf, Portable Jukebox rentals, Dover, PA

I would just like to say that my recent purchase from John Durfee has been very helpful and rewarding. My initial inquiries on his web site were promptly answered and when I purchased a coin mechanism for my AMI D-80 from him and found it to be missing a part, John was more then happy to hunt it down for me at no additional cost. It is nice to know that there are still honest people willing to help. Thanks John.
Dan Haralson, Safford, AZ.

John:

I wanted to offer a BIG THANKS to you for helping locate a critical
part for my Seeburg V that I'd all but given up hope of finding. You truly
are the largest juke box parts supplier in the universe. And, although this
is my own biased opinion, I think you provide first-class, unequaled
customer service. This not only because of your knowledge of almost every
conceivable jukebox ever made, but also because of your responsiveness,
willingness to take the time to answer questions, and your helpfulness in
offering problem solving suggestions. There is no better place on this
planet, or any other, to go for juke box parts. It continues to be a real
pleasure to do business with you, and I look forward to doing lots more in
the years ahead.
Best, Greg Pruett

I have purchased parts from Durfee Coin-op on four separate occasion's. I have never been disappointed in any part purchased. Parts were never miss-represented with regards to condition and/or suitability. More importantly, all parts came shipped in such a way that you would have thought I was receiving fine crystal. Even the most fragile pieces were very carefully packed. I was always warned in advance when a part would be difficult to ship and that it's condition upon arrival might be less than ideal, but everything arrived just fine each time.
Bill Barrett, Evansville, IN

John is a consistently a reliable source for quality parts. His inventory of parts is beyond what anyone has attempted to accumulate in the past. He describes them honestly and prices them fairly. I have been in this business over 10 years and have had dealings with good and bad. Durfee Coin-op is in my top 5. Thanks for the excellent service in the past John.
Jon Romas/Owner St. Louis Vintage Jukebox Co.

Hi John, I got my parts today that were ordered yesterday, they are great! Thank you!!
Steve York, Steve's Jukebox Sales.

This is not a "testimonial"....but, your service to me has been exceptional. I do jukeboxes as a hobby, so I don't have to profiteer on everything I do, but I have to keep costs in control. Your service, again is exceptional, considerate and caring. What else can a customer except from any vendor, especially a vender doing what you do. Thanks for your service, so far. And no I don't except special consideration because I've written this, just keep doing what you do.
Doug Biddle, Accelerated Arcade Amusements